Our Competence Industrial Gases
Medical Gases
High Purity Gases
Food Grade Gases
Specialty & Mixture Gases
Refrigerants
Gas Control Equipment
Welding Equipment
Safety Equipment
Medical Equipment
Air Separation Plants
Bulk Supply Systems


Services Sultan Oxygen offers some of major consultancy services of the following at the request of customers are:
>> Installation of Air Saparation Units.
>> Crygenic Liquid pump.
>> Vaporizer.
>> Cylinder manifold Installation.
>> All kinds of vertical,horizontal and containerized cryogenic storage tanks for LOX,LIN,LAr,LCO2 etc.


Equipment Sultan Oxygen deals in a comprehensive range of industrial, medical and specialty gas regulators besides a complete range of products in the relevant fields of application. A well-equipped repair facility for all gas control and welding equipment is a unique facility offered exclusively by Sultan Oxygen. The facility provides complete technical back up through a team of highly skilled and trained technicians.

Cylinder Test Shop Fully equipped Workshop, supported by skilled technician, Providing the services of Hydraulic Testing, repair/Maintenance of Cylinders & Equipment.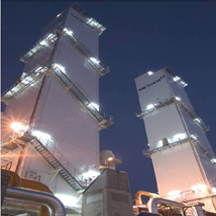 Air Sepration Units
Sultan Oxygen started its production in 2008 with the setting up of an ASU with a capacity of 180 CUM Oxygen and 100 CUM Nitrogen/hr. In 2011Sultan Oxygen setup another ASU of 180 CUM of Oxygen and 100 CUM of Nitrogen/hr keeping in view the growing market of its products.

Sultan Oxygen produces and supplies Oxygen, Nitrogen, Argon, Carbon dioxide, Helium, Hydrogen, Inert Welding gases, Specialty gases, Medical gases and many different gas Mixtures. Air separation units for the production of